Managed Cloud Service Provider
Boosting your efficiency and scalability to help your business get results.
As more and more organisations decide to move parts of their IT infrastructure requirements to the cloud, our engineers are here to advise on the cloud business solution that will work best for you.
Make the move to our managed cloud solutions and transform your business for the digital age. Our experts are ready to discuss your needs and deliver the right cloud services to help you work smarter.
Of Fortune 500 companies trust their business on Azure
Microsoft products and services run on Azure
Why Move to Our Managed Cloud Solutions?
At ECS Computers, we understand the challenges businesses face when managing their own IT infrastructure. That's why we provide tailored managed cloud solutions to organisations. Our secure, flexible, and managed cloud services deliver a host of benefits that empower your business to operate more efficiently.
Reduce Upfront Costs
Our pay-as-you-go managed cloud removes the need for expensive upfront hardware investments. You only pay for the cloud services and storage you actually use each month. This cost-efficiency enables you to redirect funds into other areas of your business.
Scale With Ease
Our cloud platform allows you to seamlessly scale your services up or down as your needs change. Effortlessly add more users, licences or storage as your business grows over time. This flexibility ensures you always have the right IT resources to support your goals.
Support Remote Working
In today's modern workplace, employees need the ability to work productively from any location. Our managed cloud solutions provide secure remote access to your business applications and data. This allows your team to work flexibly and collaborate efficiently regardless of device or location.
Simple, Reliable Access
We make it simple for your employees to access the cloud services and data they need, when they need it. This provides a reliable workspace that facilitates productivity and collaboration across your organisation.
Enhanced Security
Storing data in our managed cloud platform provides always-on security, including automated software patches and upgrades. We also enable robust security measures like multi-factor authentication to protect your business. Your data is safe in our hands.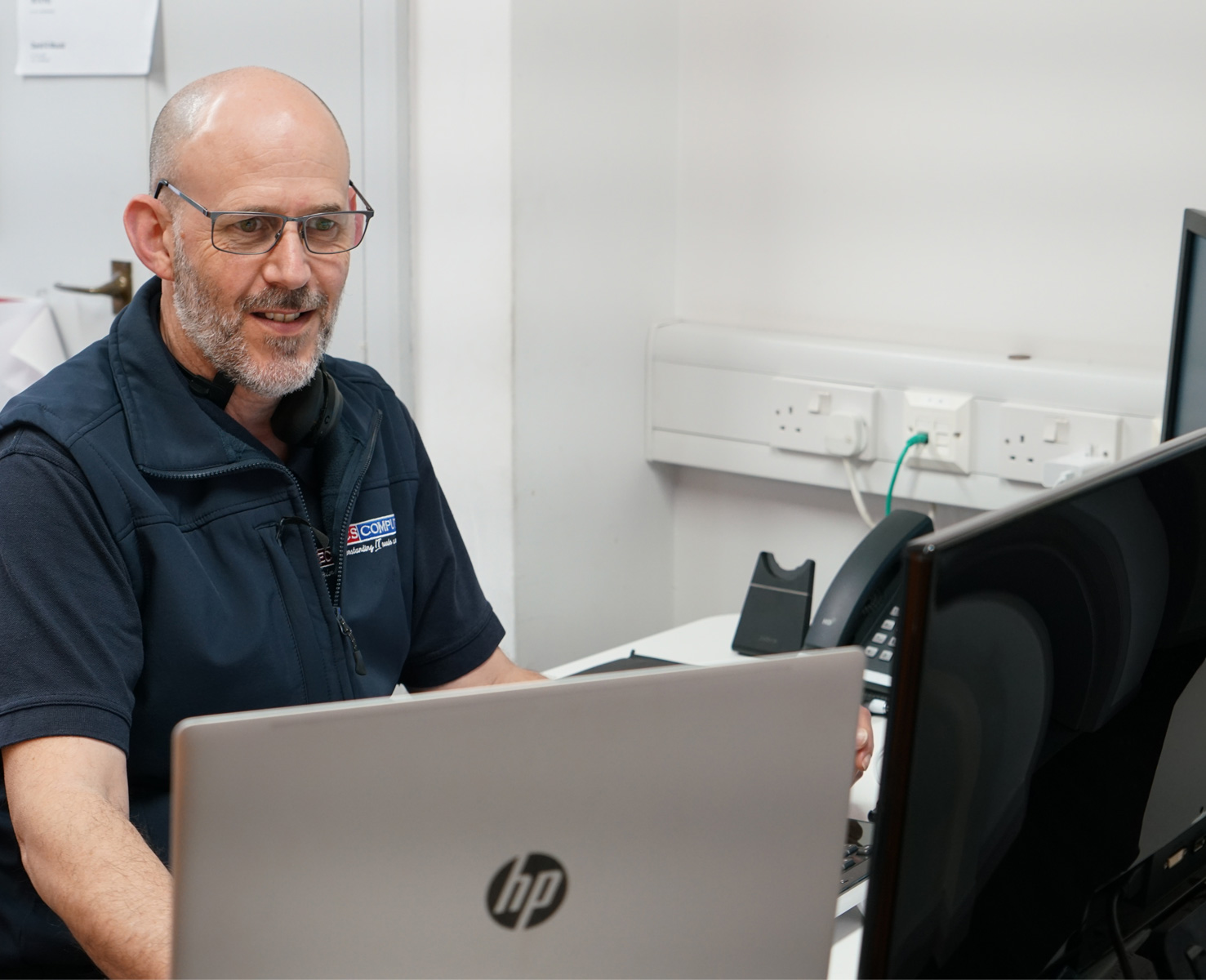 Implementation and Support
Upon accepting a proposal, a schedule is put in place for delivery and setup of the new system. Any hardware and software are configured at the ECS offices prior to installation where possible so that interruption to your business is minimalised. Weekend installations are available if required.
Our goal throughout the implementation stage of a project is to get the new cloud business solutions integrated in the shortest period possible, minimising downtime of business operations.
We provide complete after-care with every project; this ensures that teething issues or end-user questions can be resolved and answered leading, once again, to minimise business interruption.
Once the project is complete, ECS can fully support your new cloud environment – making changes and solving issues when necessary.
Our Managed Microsoft Cloud Solutions & Services
At ECS Computers, we provide complete managed cloud solutions to help organisations unlock the power of the cloud. With our Microsoft expertise and certifications, we can design, deploy, and support the ideal cloud services for your needs.
Tailored Microsoft Azure Solutions
Microsoft Azure offers a vast range of cloud computing services for building, testing, deploying and managing applications. ECS can assess your requirements and deliver a tailored Azure solution to meet your business goals. This may include Azure virtual machines, cloud databases, analytics, AI, serverless computing and more.
SharePoint is the ideal cloud-based platform for sharing information and enhancing team collaboration. ECS can implement and manage a SharePoint environment customised for your workflows. Say goodbye to emailing files and improve productivity with automated document management.
Empower Users With Microsoft 365
Microsoft 365 provides the latest online Office apps and tools your team needs to work together productively. As Microsoft partners, ECS can advise on licensing and deploy Microsoft 365 optimised for your users. Enjoy seamless access to Outlook, Teams, Word, Excel and more.
Secure Managed Exchange Email
Rely on ECS to manage and support your business email needs. We'll handle email hosting, administration, security and continuity using Microsoft Exchange online. With round-the-clock monitoring and support, your mailboxes are in safe hands.
Frequently Asked Questions
What are cloud solutions?
Cloud solutions refer to a range of services and resources, such as storage, applications, and computing power, that are hosted and accessed over the internet, often provided by third-party cloud service providers.
Why should my business consider cloud solutions?
Cloud solutions offer scalability, flexibility, cost-effectiveness and accessibility from anywhere with an internet connection. They can streamline operations and enhance data security.
What types of businesses can benefit from cloud solutions?
Cloud solutions are suitable for businesses of all sizes and industries. Whether you're a startup, a small business, or an enterprise, there are cloud services to meet your specific needs.
What services are typically included in cloud solutions?
Cloud solutions can include Infrastructure as a Service (IaaS), Platform as a Service (PaaS), Software as a Service (SaaS), data storage, cloud hosting, data backup, and more.
Is cloud adoption secure for my business data?
Cloud providers invest heavily in security measures. However, the security of your data also depends on how you configure and manage your cloud resources. You can work with providers, like ECS,  to enhance security.
Can I migrate my existing IT systems to the cloud?
Yes, many existing IT systems can be migrated to the cloud. The process may vary depending on your needs, but many cloud providers offer migration services and tools to simplify the transition.
How can cloud solutions improve my business's disaster recovery and data backup capabilities?
Cloud solutions offer robust disaster recovery and data backup options, ensuring data redundancy and the ability to recover quickly in case of data loss, natural disasters, or cyberattacks.
Do cloud solutions offer cost savings for businesses?
Cloud solutions can lead to cost savings by eliminating the need for extensive physical infrastructure and reducing maintenance costs. You pay only for the resources you use, which can be more cost-effective.
Can I switch cloud service providers if I'm not satisfied with my current one?
Yes, you can switch providers, but the ease of migration may vary. It's essential to assess the terms and implications of any existing contracts with your current provider.
Is there a long-term commitment required for cloud solutions?
While some providers offer long-term contracts, ECS Computers offer flexible solutions, with 30-day rolling agreements.