Ensuring your IT runs perfectly, every day – allowing you to focus on what matters most.
Handing over the responsibility of delivering & maintaining your IT services to ECS makes sense from both a financial and time-saving perspective.
Devices supported by our Business Engineers
Over 40 years of experience
3351 Business Support tickets resolved each month
With our fully managed IT support, ECS works as your outsourced IT department – meaning you get access to expert advice, support, and maintenance, all whilst reducing unnecessary IT support expenditure for your business.

Our service means your organisation reduces unnecessary IT expenditure, ensures internal IT management is kept to a minimum and leads to business-critical services always remaining operational.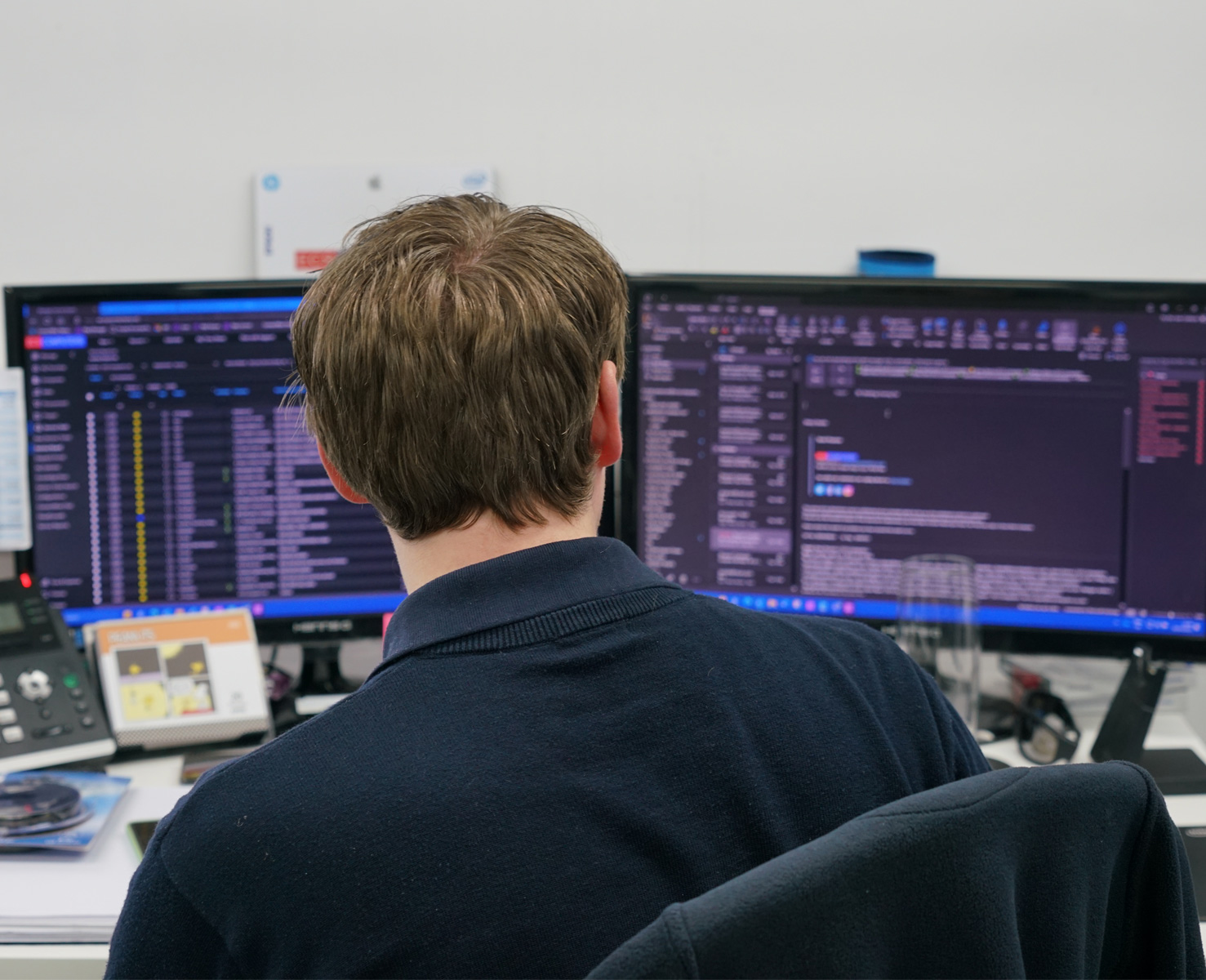 Managed IT Support Agreements
ECS Computers offer a range of support agreements, that can be tailored to your business requirements.
When there's an issue, we have a guaranteed minimum response time to start investigating the problem. Long waits to get issues resolved are a thing of the past!
If a server or network switch goes down, it can impact every IT system your company uses. When these issues arise, these critical components are given the highest priority with faster reaction times, keeping any interruption to your business to a minimum.
Our Managed IT Support Services
Help Desk Support
Call or email our helpdesk to get direct access to our experienced IT engineers. From just one telephone call or email, we can offer quick advice, escalate, and log a support ticket or connect to your device remotely to get your problems resolved quickly.
Remote support is the fastest and most effective way of resolving issues on devices that are critical to the daily running of your business.
Onsite Support
At times, issues arise that can't be resolved remotely. It's good to know that you can call on one of our expert engineers to attend your site and resolve the situation with the minimum of downtime and disruption.
Remote Monitoring
We use N-able, a premium managed IT support system, that helps us monitor many of the strategically important areas of your system – 24 hours a day, 7 days a week.
Thanks to this constant monitoring and support system, our team can offer proactive IT support and help identify issues before they can affect your productivity. This means less downtime, less stress, and more time to focus on what really matters – your business.
Remote Working
Do you have members of staff that work from home? Or have you considered moving to a remote working system? ECS has extensive experience in setting up users to work remotely – securely and efficiently.
If your staff have an issue, they can contact us – just like they would in the office.
Managed Email
We offer Microsoft 365 business-grade email, which provide the easy sharing of documents, calendars, and other types of business data.
ECS will manage your business' emails and take full responsibility for the administration of the service. We will liaise with Microsoft in the event of an outage and provide email support to all your users in any email troubleshooting issues.
Already Employ An Internal IT Department
Our service team can bring extensive knowledge and experience in many areas of IT to complement the existing in-house IT skill sets.
Time-consuming tasks can be offloaded from the internal IT team leaving them to
Concentrate on critical tasks that may affect business performance
Frequently Asked Questions
What are Managed IT Services?
Managed IT Services refer to the practice of outsourcing the management and maintenance of an organisation's IT infrastructure and systems to a specialised provider. These services cover a range of IT needs, including network management, cybersecurity, data backup, and more.
Why should my business consider Managed IT Services?
Managed IT Services offer several benefits, including cost-efficiency, proactive system monitoring, enhanced cybersecurity, and access to IT expertise. These services can help your business focus on its core operations while leaving IT management to experts.
How do Managed IT Support Services differ from traditional IT support?
Traditional IT support typically involves addressing issues as they arise, while Managed IT Services take a proactive approach by monitoring and maintaining your systems to prevent problems. This approach reduces downtime and minimises disruptions.
What types of businesses can benefit from Managed IT Services?
Managed IT Services are suitable for businesses of all sizes and industries. Whether you're a small startup or a large enterprise, ourservices can be customised to meet your specific IT needs.
What services are typically included in a Managed IT package?
Managed IT includes services such as system monitoring, software updates, hardware maintenance, helpdesk support, cybersecurity, cloud management, and data backup and recovery.
Is Managed IT Services cost-effective for small businesses?
Yes, Managed IT Services can be cost-effective for small businesses. They offer predictable monthly costs and eliminate the need to hire and train an in-house IT team. This can save money in the long run.
How can Managed IT Services improve my business's cybersecurity?
Managed IT Services providers are dedicated to keeping your systems secure. They implement the latest security measures, monitor for threats, and respond quickly to any breaches or vulnerabilities, reducing your exposure to cyber threats.
Do I lose control over my IT infrastructure with Managed IT Services?
No, you do not lose control. Managed IT Services providers work in partnership with you, ensuring that you have input into decisions about your IT infrastructure and systems. They tailor their services to align with your business goals and requirements.
Can I scale my Managed IT Support Services up or down as my business changes?
Yes, Managed IT Services are flexible and can be adjusted to accommodate your business's changing needs. Whether you're expanding, downsizing, or need additional services, ECS Computers can adapt accordingly.
How quickly can I expect support when issues arise?
ECS Computers offer rapid response times, depending on the severity of the issue, alongside service level agreements guaranteeing a minimum response time. They prioritise minimising downtime to keep your business running smoothly.
Do Managed IT Services offer disaster recovery and data backup solutions?
Yes, ECS Computers include disaster recovery and data backup services to protect your data and ensure business continuity in case of unforeseen events like data loss, natural disasters, or cyberattacks.
Is there a long-term commitment required for Managed IT Support Services?
While some providers offer long-term contracts, ECS Computers offer flexible solutions, with 30-day rolling agreements.